A retrospective assessment of historical environmental services in the Richmond River Catchment, NSW, Australia (Reichelt-Brushett, A, Sullivan, C & Wood, M)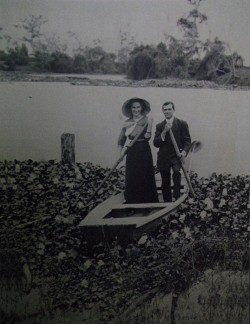 The catchment and waterways of the Richmond River North Eastern NSW have undergone significant changes since European settlement. These include conversion of a large percentage of the catchment from forests to agricultural lands, wetland draining and flood mitigation works. From 1842 when the cedar cutters arrived in the Richmond Valley and through to the timber boom in the 1880s major changes to the Catchment were carried out within a generation even with the relatively low technology of the time.
In just 43 years vegetation communities were altered and cleared causing mass erosion across the catchment. The clearing degraded riparian zones or they were totally lost with sediment washed into the river causing shoaling hampering navigation leading to on-going dredging campaigns. The natural physical local environment (fertile soils, sub-tropical weather and rainfall) that once supported the Big Scrub and floodplain wetlands now supports exotic weeds, grasses and trees impacting on biodiversity and River health.
There is a need for a continued effort to address these issues to improve catchment health and assist the local community. MWA is one business that can contribute to catchment restoration assisting local councils and state agencies to achieve tangible on-ground and planning outcomes.
(photos Water Hyacinth Richmond River 1912 – source: In and around the Mid Richmond with George Hunt)